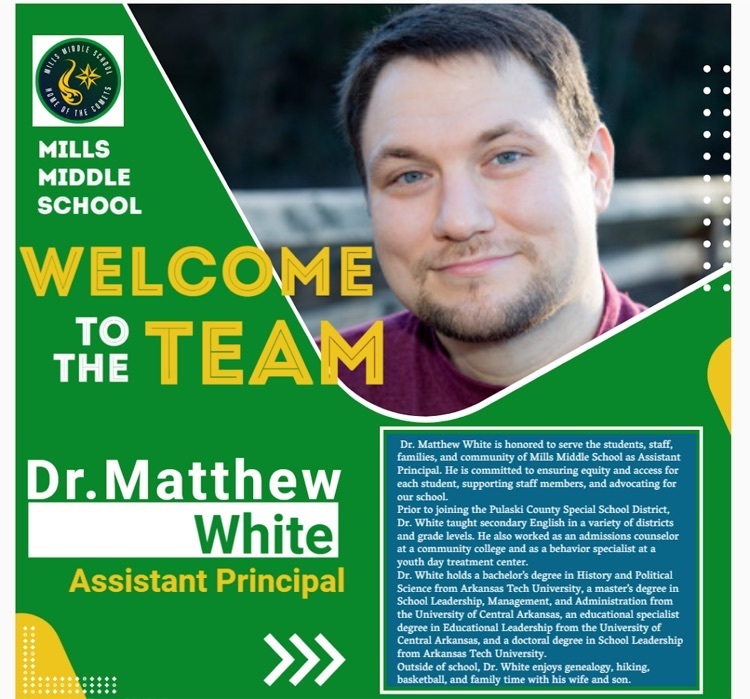 Mills Middle School Welcomes their new Assistant Principal
Mills Middle School
Saturday, May 29, 2021
Dr. Matthew White is honored to serve the students, staff, families, and community of Mills Middle School as Assistant Principal. He is committed to ensuring equity and access for each student, supporting staff members, and advocating for our school.
Prior to joining the Pulaski County Special School District, Dr. White taught secondary English in a variety of districts and grade levels. He also worked as an admissions counselor at a community college and as a behavior specialist at a youth day treatment center.
Dr. White holds a bachelor's degree in History and Political Science from Arkansas Tech University, a master's degree in School Leadership, Management, and Administration from the University of Central Arkansas, an educational specialist degree in Educational Leadership from the University of Central Arkansas, and a doctoral degree in School Leadership from Arkansas Tech University.
Outside of school, Dr. White enjoys genealogy, hiking, basketball, and family time with his wife and son.