News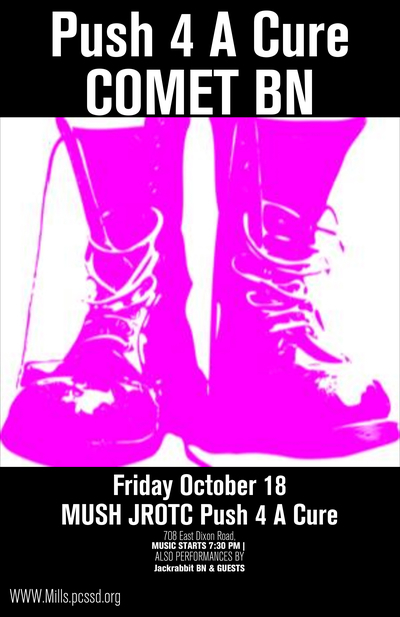 Mills University Studies High School (MUSHS) JROTC Comet Battalion has challenged the Lonoke High JROTC Jackrabbit Battalion to a push-up challenge at half time during tonight's football...
SEE ALL NEWS
Live Feed
Good evening Mills Middle School Parents: On tomororw October 17th we will hold Vision and Hearing Screening for 6th and 8th grade students. Parents please make sure your child wears his or her glasses for the vision screening. Thank you and have a great night!
Angela Nichols
3 days ago
Every PCSSD staff member is encouraged to wear red on Tuesday, October 15 in honor of World Dyslexia Day. view image
El martes 15 de octubre de 2019 a partir de las 5:00 p.m., la Escuela Intermedia Mills organizará una reunión especial para todos los padres hispanos. Durante esta reunión, tendrá la oportunidad de hablar con nuestros Administradores, la Sra. Lisa Watson, Directora, y el Sr. Marlon Dorhan, Subdirector y otros profesores / personal que proporcionarán información importante y cualquier pregunta que pueda tener con respecto a lo que está sucediendo en la escuela secundaria Mills. Haga planes para asistir, así como a la reunión de padres de Título I que comenzará inmediatamente después. La cena será servida. Si tiene alguna pregunta, no dude en comunicarse con la Sra. Nichols al 501-490-5730.
Angela Nichols
10 days ago
October is National Bullying Prevention Month. The National Bullying Prevention Center provides a "Kids Against Bullying" pledge encouraging kids to speak up against bullying, support those being bullied & to be a friend when they see bullying. http://ow.ly/snaM50wEVmm
ATTN PARENTS: The start date for the afterschool accelerated learning program has been CHANGED to next Tuesday, October 15th beginning immediately afterschool until 5:30pm. Transportation and a meal will be provided to all students. Questions? Contact 501-490-5730.
Angela Nichols
11 days ago
SEE ALL POSTS